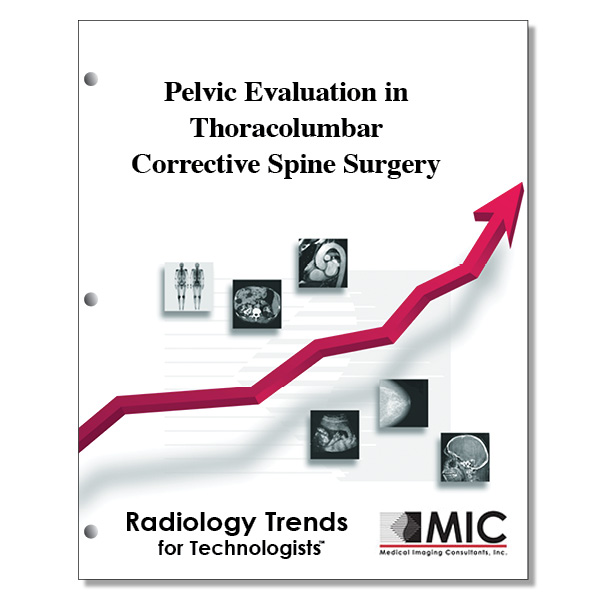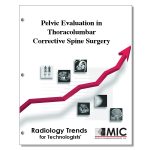 Pelvic Evaluation in Thoracolumbar Corrective Spine Surgery
A presentation of how pelvic compensation is used to maintain balance and posture by the scoliotic patient, and thus must be measured and accounted for in treatment options.
Course ID:
Q00507
Category:
Radiology Trends for Technologists
Modality:
Radiography
$24.00
Targeted CE
Outline
Objectives
New Targeted CE pending.
Please check back soon!
Outline
Introduction
Cone of Economy
Imaging and Measurement Technique
The Concept of Coronal Balance and Important Radiologic Parameters

Coronal Plane Decompensation
Cobb Angles

The Concept of Sagittal Balance and Important Radiologic Parameters

Spinal Vertical Alignment
Thoracic Kyphosis
Lumbar Lordosis

The Role of the Pelvis in Maintenance of Sagittal and Coronal Balance and Important Radiologic Parameters

Pelvic Obliquity
Pelvic Incidence
Pelvic Tilt
Sacral Slope
T1 Pelvic Angle

Bringing it all Together
Summary
Objectives
Upon completion of this course, students will:
be able to explain how the pelvis plays an important role in the maintenance of proper posture in patients with spinal deformities
understand the role that the pelvis plays in coronal and sagittal balance
understand how surgeons originally treated spinal deformities and the current change in mind set
explain the changes in body mechanics in order to compensate for posture that is outside the normal comfort range
be able to explain who introduced the "cone of economy" concept and what it is
be able to explain the position that the patient should be in for radiographs for spinal deformities
understand the benefits and limitation of using radiography in the evaluation of patients with spinal deformities
understand the benefits and limitation of using computed tomography in the evaluation of patients with spinal deformities
know what low-dose digital stereoradiography is and how it is used for imaging spinal deformities
understand the benefits and limitation of using low-dose digital stereoradiography in the evaluation of patients with spinal deformities
understand the benefits and limitation of using magnetic resonance (MR) imaging in the evaluation of patients with spinal deformities
be able to describe the concepts of coronal balance in patients with spinal deformities and how it pertains to radiologic parameters
be able to explain the physiologic factors that affect humans in standing upright while in the neutral midline posture
know which two measurements are the most important ones in the interpretation of coronal balance from the standpoint of the spine and exclusive of the pelvis
be able to describe how coronal plane decompensation is calculated
know what is the most common spinal deformity that causes coronal plane decompensation
be able to describe what the Cobb angle is, what the measurement determines, and how the angle affects treatment planning
understand the principles of sagittal balance and how they pertain to patients with spinal deformities
be able to describe the relevant radiologic parameters in the understanding of sagittal balance in patients with spinal deformities
understand the basics of the SRS-Schwab Classification as a guideline for the interpretation and treatment of adult spinal deformities
understand how thoracic kyphosis is calculated and the normal range of variances in men and women
know how lumbar lordosis is calculated and what a Flatback deformity is
be able to define what pelvic obliquity is and the role it plays in the coronal correction strategy of spinal deformities
know how the pelvic incidence angle is created and its relationship to lumbar lordosis
be able to define how pelvic tilt is calculated as well as how the SRS-Schwab Classification relates to pelvic retroversion
be able to define how sacral slope is calculated and its relationship to pelvic tilt and incidence
be able to define the T1 pelvic angle and how it relates to spinal vertical alignment and pelvic tilt measurements
know what Ryan, et al, define as the ideal T1 pelvic angle for surgery
understand the key information a radiologist should document on both AP and lateral radiographs of the spine for diagnosing spinal deformities
be able to summarize the key measurement parameters that should be included in a radiologist report pertaining to spinal and pelvic radiography for diagnosing spinal deformities