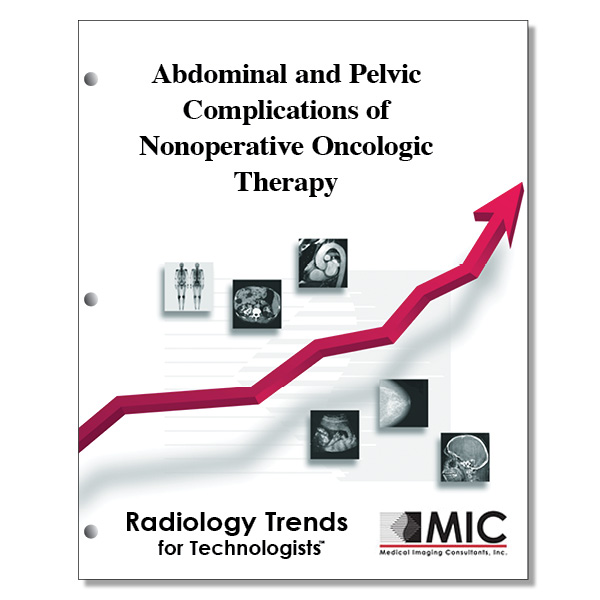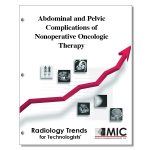 Abdominal and Pelvic Complications of Nonoperative Oncologic Therapy
A review of chemotherapeutic agents, and timing and types of radiation that affect gastrointestinal organs, as well as image examples of complications of therapy and recurrent tumors.
Course ID:
Q00431
Category:
Radiology Trends for Technologists

Modalities:

CT, Radiation Therapy
$34.00
Targeted CE
Outline
Objectives
This course has been approved for 3.0 Category A credits.
No discipline-specific Targeted CE credit is currently offered by this course.
Outline
Introduction

Chemotherapeutic Agents
Radiation Therapy

Effects of Chemotherapy

Liver

Fat Deposition
Hepatic Capsular Retraction
Portal Vein Thrombosis
Hepatic Veno-occlusive Disease
Hepatic Congestion

Spleen

Splenic Rupture
Therapy-induced Splenomegaly
Spleen after Use of Thorotrast

Pancreas
Bowel

Enteritis
Colitis

Bowel Perforation, Fistulas, and Delayed Anastomotic Leak

Perforation and Fistula
Delayed Anastomotic Leak
Graft-Versus-Host Disease
Pneumatosis

Vessels

Vascular Complications
Bleeding
Peritoneum and Mesentery

Radiation-induced Changes

Liver
Pancreas
Spleen
Stomach and Duodenum
Small Bowel
Large Bowel and Presacral Space
Kidney, Ureter, and Bladder
Bone
Radiation-induced Tumors

Summary
Objectives
Upon completion of this course, students will:
know the cell types affected by cytotoxic agents
be familiar with Topoisomerase inhibitors and other chemotherapeutic agents
be familiar with targeted chemotherapeutic agents, their indications and side effects
be familiar with the complications of chemotherapeutic agents by organ
be familiar with the complications of chemotherapeutic agents
understand why a clinician should be alerted to imaging findings of steatosis or steatohepatitis
be familiar with the appearance of hepatic capsular retraction on CT and MR
know the patient symptoms of hepatic veno-occlusive disease
identify the possible method of differentiation between hepatic veno-occlusive disease and graft-versus-host disease
be familiar with the imaging findings of hepatic veno-occlusive disease
understand the issue of administering imatinib in conjunction with clopidogrel
know how splenic rupture demonstrates at CT imaging
be familiar with the symptoms of therapy-induced splenomegaly with which patients may present
be familiar with the appearance of pancreatitis at CT imaging
know how a pseudomembranous colitis diagnosis is confirmed
be familiar with the CT imaging findings of a delayed anastomotic leak
know the conditions for which patients are receiving chemotherapeutic agents which can cause pneumatosis
know the clinical clues to the presence of hemorrhage
be familiar with the radiation damage progression pathway in the liver
be familiar with how radiation damaged liver tissue appears at imaging
be familiar with the presentation of chronic radiation injury to the liver
be familiar with the secondary signs of pancreatic tumor recurrence
understand the effects of irradiation of the spleen
be familiar with the findings of acute radiation injury when irradiating the stomach and duodenum for retroperitoneal and upper abdominal tumors