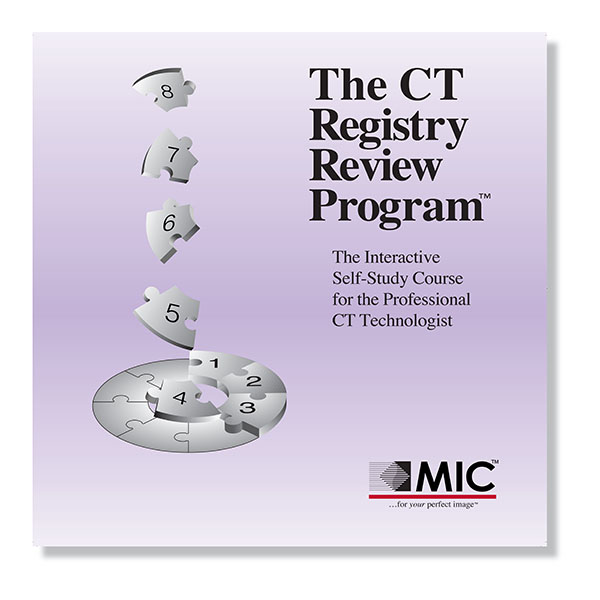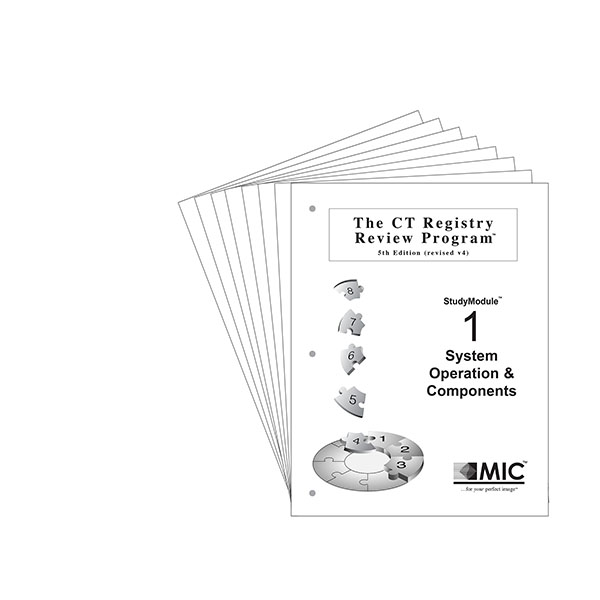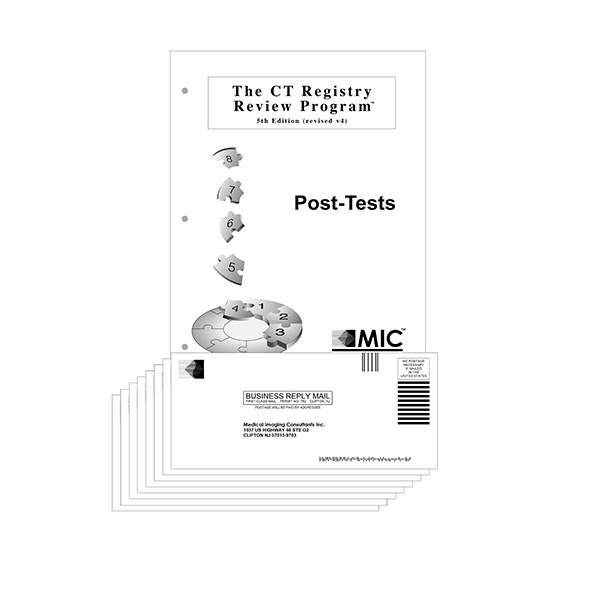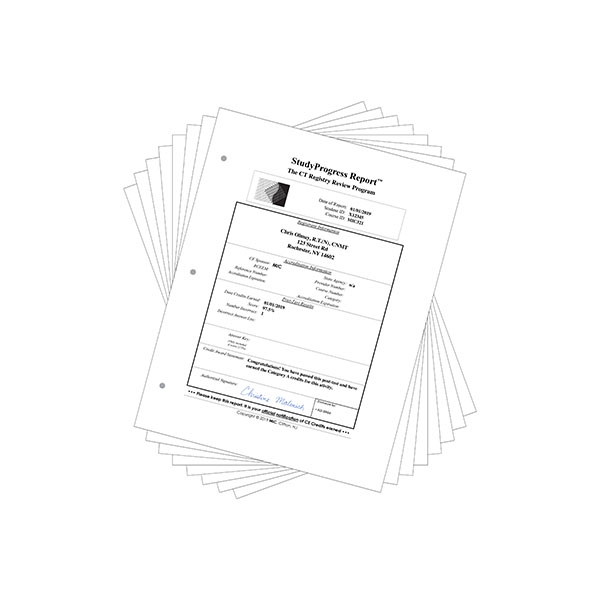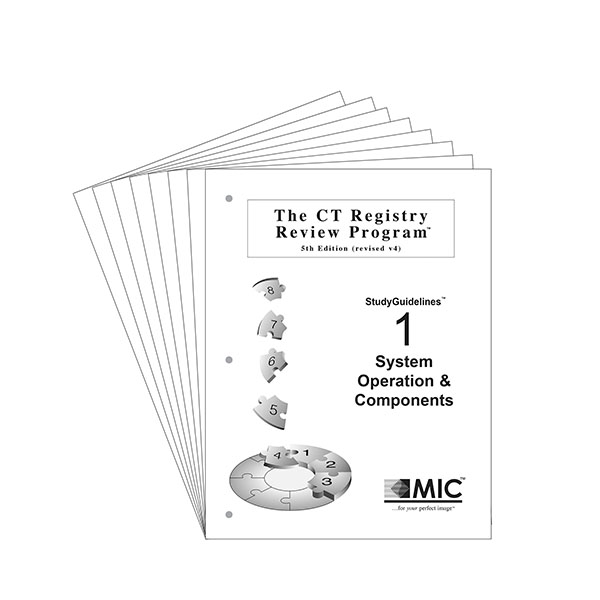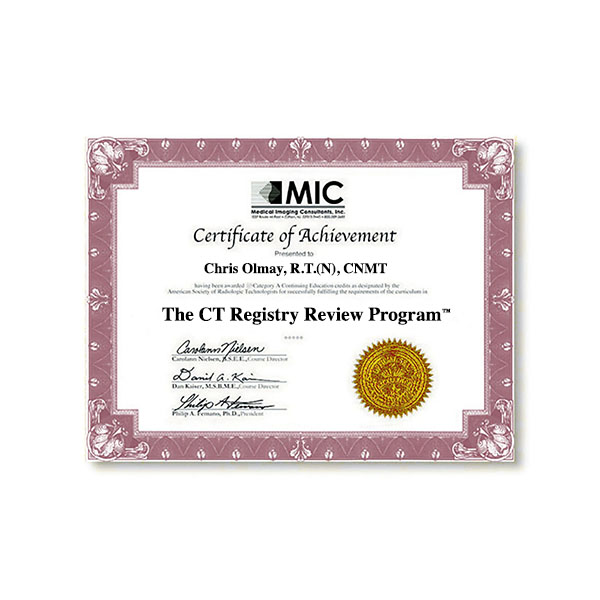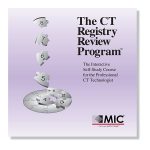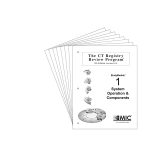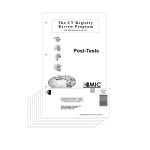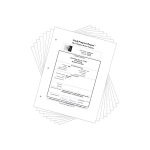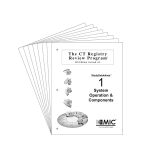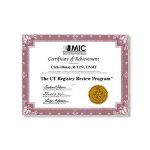 CT Registry Review Program
The CT Registry Review Program consists of 8 separately accredited StudyModules which present a detailed discussion that strictly adheres to the Content Specifications for the CT certification Exam offered by ARRT and NMTCB. The course is intended for technologists who need an effective way to prepare for, and pass, the CT Exam. MIC offers a Money Back Guarantee that technologists who complete this course will pass the CT Exam, or MIC will refund the tuition for this course. Please see the Registration Form for details.
Course ID:
CTRRP-003
Category:
Thematic Courses
Modality:
CT
| | |
| --- | --- |
| | Experienced CT technologists |
| | |
| --- | --- |
| | Pass the ARRT or NMTCB CT Exam or your money back! |
$299.00
StudyModules
Post-Tests
StudyProgress Reports
StudyGuidelines
Certificate of Achievement
Targeted CE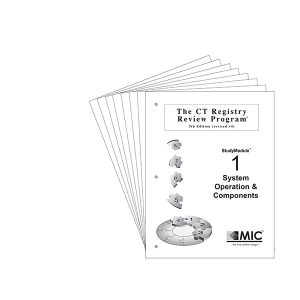 The CT Registry Review Program self-study course consists of 8 comprehensive StudyModules that are delivered to you all at once in a handy reference binder. Each StudyModule contains easy-to-follow text with an abundance of illustrations, clinical images and summaries, written in the language of the radiologic technologist.
System Operation and Components

Computed Tomography Defined
Overview of CT System Components
CT Scanner Designs Including Multi-Row Detector, Dual Source, PET/CT Scanners and Cone Beam CT in Oncology
Operator's Console
Host Computer
The Gantry
Patient Table
The CT X-ray Tube
Review of X-ray Production
Collimation
Detectors: Composition, Function, Single and Multi-Row
Array Processor
Picture Archiving and Communication System
Networks, DICOM, Electronic Health Record

CT Image Formation

Overview of a Digital Image
The Digital CT Image
Scanning Methods
Localizer Scan
Conventional Serial CT Scan
Single-row Detector CT Scanners
Multi-row Detector Scanners
Helical Scan
Continuous CT
Dual-energy CT
Image Reconstruction Including Back Projection, Convolution, Iterative Reconstruction and Cone Beam Reconstruction
Retrospective Reconstruction
Multiplanar Reconstruction
3D Shaded Surface Display
Volume Rendering
Maximum Intensity Projection
Filming and Archiving

CT Image Quality

Spatial Resolution, Temporal Resolution, Contrast, Noise, Dose
Linear Attenuation Coefficient
CT Number
mAs
kVp
Slice Thickness on Single-row and Multi-row Detector Scanners
Table Increment
Pitch
Reconstruction Interval
Field-of-View (scan, reconstruction, display)
Matrix
Magnification
Window Width and Window Level
Quality Assurance
Patient Handling and Safety

Ethical and Legal Issues
Patient Education, Screening and Preparation
Radiation Protection for Personnel
Lab Values
Radiation Safety and Measuring Radiation Dose
Ways to Minimize Patient Dose
CT Dose Notification and Alerts
Patient Monitoring and Code Procedures
Management of Accessory Medical Devices
Vital Signs
Infection Control

IV Procedures and Contrast Agents

Types of Contrast Agents
Administration Route
Dissociation, Osmolality and Viscosity of Agents
IV Site Selection and Injection Rate
Dose Calculations
Contraindications
Adverse Reactions
Pathologic Processes
Intrathecal Contrast
Intraarticular Contrast
Examples of Contrast Media Usage

CT Exam and Anatomy I

Detailed discussion of exam procedures, labeled anatomy and case studies for exams in the head (including brain perfusion), neck, spine, musculoskeletal system and the vessels of these regions

CT Exam and Anatomy II

Detailed discussion of exam procedures, labeled anatomy and case studies for exams in the chest, abdomen, pelvis and the vessels of these regions as well as special procedures including PET/CT and SPECT/CT, CT arthrography, CT colonography, radiation therapy planning, cardiac synchronization, calcium scoring, and left ventricular cardiac function

CT Artifacts

Beam Hardening
Partial Volume Averaging
Motion
Metal
Edge Gradient Effect
Equipment-Induced
Cone Beam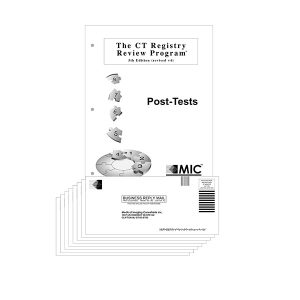 After you complete each StudyModule, there is a multiple choice Post-Test. Simply fill in the Post-Test Answer Sheet and return it to us using one of the following options:
Use the postage-paid return envelope
Fax your Answer Sheet for faster feedback
Email it to CE@micinfo.com for the quickest results
Of course, all program information and Post-Test results are treated with the utmost confidentiality.
Each StudyModule has been separately accredited so you earn Category A credits as you pass each Post-Test, up to 25 with the CT Registry Review Program!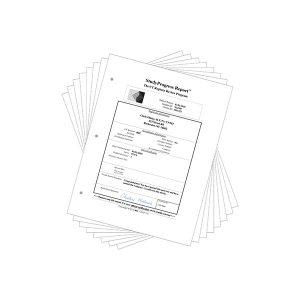 After we grade each Answer Sheet, we send you a StudyProgress Report that includes your Post-Test score and the official notification of the Category A CE credits earned for that Post-Test.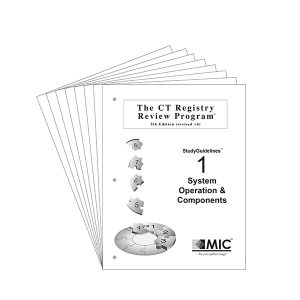 As you complete each Post-Test, you also receive a set of StudyGuidelines which presents detailed explanations of each and every Post-Test question! StudyGuidelines offer additional information not found in the StudyModules and provide you with guidance back to the specific section that you need to study further.
An Answer Key is provided once you achieve a score of at least 75%. If you score below 75%, an additional Answer Sheet is provided, and you are offered another chance at the Post-Test after you study the material further. StudyProgress Reports and StudyGuidelines are sent to you via first class mail, normally within two business days after we receive your Post-Test answers.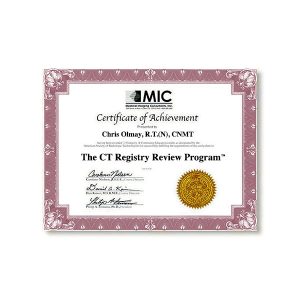 You are awarded the final Certificate of Achievement after you earn the Continuing Education credits for all the StudyModules.
The CT Registry Review Program fulfills ARRT's entire 16 credit Structured Education Requirement for the Discipline of Computed Tomography.
Targeted CE per ARRT's Discipline, Category, and Subcategory classification:
[Note: Discipline-specific Targeted CE credits may be less than the total Category A credits approved for this course.]
StudyModule 1  [3 credits]:
Computed Tomography: 3.00




Image Production: 3.00




Image Formation: 2.75




Image Evaluation and Archiving: 0.25

Magnetic Resonance Imaging: 0.25




Image Production: 0.25




Data Acquisition, Processing, and Storage: 0.25

Nuclear Medicine Technology: 0.75




Image Production: 0.75




Instrumentation: 0.75

Radiography: 0.25




Image Production: 0.25




Equipment Operation and Quality Assurance: 0.25

Radiation Therapy: 0.50




Safety: 0.50




Radiation Protection, Equipment Operation, and Quality Assurance: 0.50
StudyModule 2  [2.75 credits]:
Computed Tomography: 2.75




Image Production: 2.75




Image Formation: 2.50




Image Evaluation and Archiving: 0.25

Nuclear Medicine Technology: 1.00




Image Production: 1.00




Instrumentation: 1.00

Radiation Therapy: 1.00




Procedures: 1.00




Treatment Volume Localization: 1.00
StudyModule 3  [2.5 credits]:
Computed Tomography: 2.50




Image Production: 2.50




Image Formation: 0.50




Image Evaluation and Archiving: 2.00

Nuclear Medicine Technology: 0.50




Image Production: 0.50




Instrumentation: 0.50

Radiation Therapy: 0.50




Procedures: 0.50




Treatment Volume Localization: 0.50
StudyModule 4  [4.5 credits]:
Cardiac-Interventional Radiography: 3.25




Patient Care: 3.25




Patient Interactions and Management: 3.25

Computed Tomography: 4.25




Patient Care: 2.75




Patient Interactions and Management: 2.75




Safety: 1.50




Radiation Safety and Dose: 1.50

Magnetic Resonance Imaging: 3.50




Patient Care: 3.50




Patient Interactions and Management: 3.50

Nuclear Medicine Technology: 3.50




Patient Care: 3.50




Patient Interactions and Management: 3.50

Radiography: 3.50




Patient Care: 3.50




Patient Interactions and Management: 3.50

Registered Radiologist Assistant: 3.25




Patient Care: 3.25




Patient Management: 3.25

Sonography: 3.50




Patient Care: 3.50




Patient Interactions and Management: 3.50

Radiation Therapy: 3.50




Patient Care: 3.50




Patient Interactions and Management: 3.50

Vascular-Interventional Radiography: 3.25




Patient Care: 3.25




Patient Interactions and Management: 3.25

Vascular Sonography: 3.50




Patient Care: 3.50




Patient Interactions and Management: 3.50
StudyModule 5  [3 credits]:
Cardiac-Interventional Radiography: 1.00




Patient Care: 1.00




Patient Interactions and Management: 1.00

Computed Tomography: 3.00




Patient Care: 2.25




Patient Interactions and Management: 2.25




Procedures: 0.75




Head, Spine, and Musculoskeletal: 0.25




Neck and Chest: 0.25




Abdomen and Pelvis: 0.25

Radiography: 1.00




Patient Care: 1.00




Patient Interactions and Management: 1.00

Registered Radiologist Assistant: 2.25




Patient Care: 2.25




Pharmacology: 2.25

Radiation Therapy: 2.25




Patient Care: 2.25




Patient Interactions and Management: 2.25

Vascular-Interventional Radiography: 1.00




Patient Care: 1.00




Patient Interactions and Management: 1.00
StudyModule 6  [3.5 credits]:
Computed Tomography: 3.50




Procedures: 3.50




Head, Spine, and Musculoskeletal: 3.00




Neck and Chest: 0.50

Nuclear Medicine Technology: 1.00




Procedures: 1.00




Endocrine and Oncology Procedures: 0.25




Other Imaging Procedures: 0.75

Registered Radiologist Assistant: 1.00




Procedures: 1.00




Musculoskeletal and Endocrine Sections: 0.25




Neurological, Vascular, and Lymphatic Sections: 0.75

Radiation Therapy: 1.00




Procedures: 1.00




Treatment Sites and Tumors: 1.00
StudyModule 7  [3.75 credits]:
Computed Tomography: 3.75




Procedures: 3.75




Neck and Chest: 1.25




Abdomen and Pelvis: 2.50

Nuclear Medicine Technology: 1.75




Procedures: 1.75




Endocrine and Oncology Procedures: 1.75

Registered Radiologist Assistant: 1.75




Procedures: 1.75




Abdominal Section: 1.25




Thoracic Section: 0.50

Radiation Therapy: 1.75




Procedures: 1.75




Treatment Sites and Tumors: 1.75
StudyModule 8  [2 credits]:
Computed Tomography: 2.00




Image Production: 2.00




Image Evaluation and Archiving: 2.00